The 2019 Bioremediation Symposium was held in Baltimore, USA, 15-18 April 2019, organized by Battele. Sagwell exhibited its zero-valent iron, spherical porous iron powder and Fe / Ni bimetal there.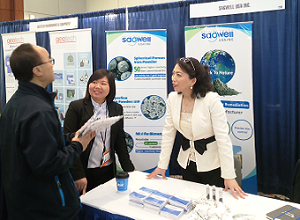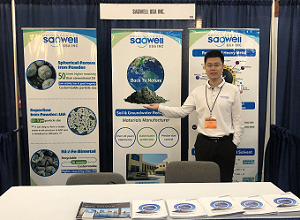 Battele is the world's largest independent research institution, employing 22,000 scientists and researchers in 130 cities worldwide.
Bioremediation Symposium is a BBS Symposium for sharing research results, practical experience and opportunities related to Bioremediation and green and sustainable restoration practices. Research is used to assess and monitor the development, implementation, use and results of advanced tools, as well as the challenges of applying bioremediation in a variety of types of sites.

About 750 scientists, engineers, regulators and other environmental experts from 25 countries and regions participated in the seminar, representing universities, government agencies, consultants, R&D and enterprises.

Sagwell's zero-valent iron (ZVI) got a lot of attention, the superfine iron powder can be used in emulsified zero-valent iron formula, promote the growth of indigenous microorganism breeding, enhance their degradation ability, at the same time adding active materials such as iron powder to reduce soil REDOX potential, collaborative chemical reduction mechanism and anaerobic bioremediation to degradation of pollutants in soil and groundwater, to build a 1 + 1 > 2 reduction repair system, promote other refractory pollutants (such as explosives and organochlorine pesticides) the rapid degradation of completely.It will not accumulate undecomposable intermediate metabolites, acidify underground aquifers, or release heavy metals to cause secondary pollution, which is environmental friendly.

About Sagwell metal powder
SAGWELL has more than 20 years experience in micro & nano metal powder materials. Since its inception, the company has been focusing on the exporation of superfine metal powders, developing its own proprietary know and how, and pioneering in novel chemical technologies to make micron scale metal powders.
Feel free to contact us for detailed information.