Pre-alloyed Powder: SCF-07
For Diamond Tools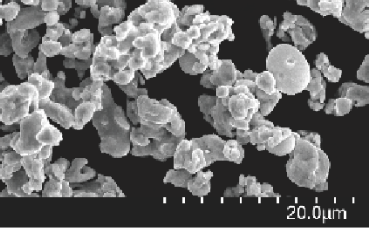 Superfine iron - copper - tin pre-alloyed powder, the average particle size of the powder is 2000 mesh, D50 is 4.5-8.0 microns. High hardness and low strength, fine and uniform structure.



It can make the matrix have better self-sharpness.
Good brittleness, for hard, brittle processing objects, the effect is obvious.
With very good grinding, cutting, drilling performance, comprehensive performance.
Chemical Analysis
| Grade | Fe(%) | Cu(%) | Sn(%) | O(%) | N(%) |
| --- | --- | --- | --- | --- | --- |
| SCF-07 | 61.0-65.0 | 25.0-29.0 | Bal. | ≤0.70 | ≤0.05 |
Physical Properties
| Grade | D10(μm) | D50(μm) | D90(μm) | Apparent Density(g/cm3) | Tap Density(g/cm3) |
| --- | --- | --- | --- | --- | --- |
| SCF-07 | 1.5-4.0 | 4.5-8.0 | 8.5-15.0 | 1.4-2.4 | 3.0-4.0 |